Acts. "You will be my witnesses."
Acts 1:8 is the outline for the Book of Acts .
'I swear to tell the truth, the whole truth and nothing but the truth, so help me God.' Turn that popular oath given in the courts around and you will see the impact:  SO HELP ME GOD TO TELL THE TRUTH, THE WHOLE TRUTH AND NOTHING BUT THE TRUTH! That is why God sent us a Helper, the Holy Spirit.
The book of Acts is the second book written by Luke. It is the sequel to his first book, Luke, one of the four Gospels.  If you have read the book of Luke, you know the author is a meticulous historian, verifying facts and details. Luke was a Gentile (a Greek) by birth, well educated in Greek culture, a physician by profession, a companion of Paul at various times from his second missionary trip to his first imprisonment in Rome. Both books, Luke and Acts, are addressed to Theophilus, a friend of Luke's and by the sound of his name, also a Greek.  We do not know for sure who this person is, but possibly he is wealthy and even a Roman citizen. It is also believed Theophilus was responsible for seeing that Luke's writings were copied and distributed.
As he did in the Gospel of Luke, Luke sets out to write an accurate historical account which tells us of the founding of the Christian church. It is rich in detail, accurate in events and tells  an exciting story of the efforts of the early Christian pioneers. You will notice, sometimes the author uses the plural pronoun 'we' which indicates he is there personally. At other times he will use the pronoun 'they' meaning he was not there but heard first- hand accounts of those who were.
Luke reminds Theophilus  that in his former book, he wrote about all that Jesus began to do and teach until  he was taken up into heaven. Now Jesus is making it clear to the disciples they are to continue to do and teach, just as He did. This book of Acts was called the Acts of the Apostles- but in reality it is the continued 'acts' of Jesus through the lives of believers going on now for over 20 centuries. The Gospel was never intended to remain in the Jewish-only culture. This is what Jesus was referring to when He spoke of putting new wine in old wineskins. And this is what God intended when He told Abraham in Genesis 12- ' in thee shall all the families on earth be blessed." He was referring to Abraham's descendant through Isaac, Jesus.
In verses 3&4, Luke gives us 3 proofs of the Lord Jesus' resurrection:  showed Himself to these men giving many convincing proofs he was alive. They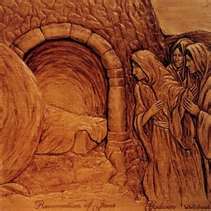 were eyewitnesses- they saw the resurrected Lord. He spoke to them about the kingdom of God. They heard Him speak. And on one occasion (at least) the Lord ate with them. Proof that the Lord was not a spirit or hallucination.  We must remember the very foundation upon which Christianity rests is the resurrection of the Lord Jesus from the dead. Paul said in I Corinthians 15- if Christ be not risen our faith is not in vain.  Think about that- if the enemies of Christianity could prove without doubt that Christ was not resurrected- Christianity would not exist- our faith would be in vain. But He is risen indeed.  And in over 20 centuries, every attempt to disprove the resurrection has not been successful.
Now before He ascended into heaven- the Lord gave this commandment to His disciples: " Do not leave Jerusalem, but wait for the gift my Father promised, which you have heard me speak about. For John baptized with water, but in a few days you will be baptized with the Holy Spirit." This prompted the disciples to ask the Lord the following question: ' Lord are you at this time- going to restore the kingdom to Israel?' He said to them: " It is not for you to know the times or dates the Father has set by His own authority. But you will receive power when the Holy Spirit comes on you, and you will be my witnesses in Jerusalem, and in all Judea and Samaria, and to the ends of the earth." (note: two baptisms are referred to here- the baptism with water by John the Baptist and the baptism with the Holy Spirit. John was the agent of baptism- that is the one who performed the baptism in the first case and water was the element with which he baptized. The second baptism they are to wait on is the baptism with the Holy Spirit; the Spirit is the element – who is the one performing it?  John answered that in Matt. 3:11/Mark 1:8- the Lord Jesus is the One. )
Let us make sure we understand these commandments and  understand the gift, the promise of the Father. These apply to us, as surely as they did the disciples and they imply what we are to do and how   are to do it. ' Not by might or power but by His Spirit. For this is our purpose.
The Lord first tells them to wait right where they are in Jerusalem for the gift my Father promised. Wait, is an often repeated commandment through the Bible, for we are an impatient people, anxious to get started- but we must wait on the Lord. Why must we wait on the Lord?  For to do anything without Him would be a waste of time and energy. We would just make a mess of things, as we often do. Abraham decided not to wait upon the Lord and with good intentions set out on his own to provide himself with an heir by using the custom of the day to have a child by a servant girl in his possession, named Hagar. The result was disastrous, a mess which is exactly what will be the outcome when we do not wait on the Lord.
What is the promise? What is the gift?  These two are connected.  The promise, I believe based on the Scripture is the promise to Abraham in Genesis 12. God said to Abraham: " I will bless you, and make your name great, and all nations shall be blessed by you." ( Genesis 12:2-3)  This promise is to Abraham. The question is: does this promise apply to the disciples and to us? How is that?  Galatians 3: 29 tells us:  " If you belong to Christ then you are Abraham's seed, and heirs according to the PROMISE."  Paul also tells us what the promise is in Galatians 3:14-" He redeemed us in order that the blessing given to Abraham might come to the Gentiles through Jesus Christ, so that by faith we might receive the PROMISE OF THE SPIRIT."
God said in Ezekiel  36: " I will put My Spirit in you and move you to follow my decrees and be careful to keep my laws." Jesus then makes it clear to the disciples and us- we will be baptized with the Holy Spirit. The Holy Spirit, the Comforter, the Counselor, the Spirit of Truth comes at salvation by grace through faith to indwell and seal the believer. He is our Helper. This is to be our source of power upon which we rely.  That is why Jesus told them to wait upon the Spirit- for without the Spirit they could not accomplish anything. But they could do all things through Christ who strengthened them in their inner man.  When a person gets saved and the Holy Spirit comes into their lives, God places both a desire and the power to do His good purpose.
The question the disciples asked at that time was the burning question of almost every Jew who lived during that period- was he, the Lord Jesus the Messiah, going to restore the kingdom to Israel at that time?  In other words, are you Lord now going to take over the throne from the Roman Empire and establish  your earthly kingdom?  Remember how at one time, the disciples were so sure that Jesus as the Messiah would establish the kingdom they were arguing about who would hold what position in His Kingdom.  This was the common belief of all Jews- that when the Messiah came He would establish His kingdom at that time and restore the nation of Israel to its position of greatness and power.
Remember when Pilate questioned Jesus at his arrest , Pilate asked: Are you king of the Jews? Jesus replied,' my kingdom is not of this world. If it were my servants would fight to prevent my arrest by the Jews. But NOW my kingdom is from another place." Notice Jesus says- NOW- at that point in time and history His kingdom was and is from another place- but His Kingdom will come to earth and He will rule and reign with a rod of iron from his throne in Jerusalem in the Millennial Kingdom.
Jesus' answer regarding the timing of his return is  that it is not for them to know the times or dates. Although Jesus gave us signs that would  indicate His coming again was near.
The truths that Jesus shared with his disciples the night of the Last Supper  indicate what was about to happen.  In a remarkable series of statements, Jesus says: "Believe when I say that I am in the Father and the Father is in me; or at least believe in the evidence of the miracles themselves" (John 14:11) I tell you the truth, ANYONE who has faith in me will do what I have been doing. He(anyone) will do even GREATER THINGS than these, because I am going to my Father. And I will do whatever you ask in my name, so that the Son may bring glory to the Father. You may ask me for anything in my name, and I will do it." John 14:12-14
Jesus was revealing a truth that was about to become truth for anyone who has faith in Him. Our faith is in a person- the person is Jesus Christ. He is the One who is described as the Word who was with God in the beginning and the Word who was God who became flesh and dwelt among us 2000 years ago. His human name was Jesus- but He was God in the flesh- because God the Father lived in the Son and the Son lived in his Father.
Now her e is what is amazing and applies to each one of us who is included in the 'ANYONE WHO HAS FAITH IN  JESUS": we will do what he was doing. Not only will we do what he had been doing- we will do greater things!  Most of us believe the apostles did what they did because they were special people selected by Jesus. But the wording here leaves no doubt- Jesus says anyone who has faith in Him. That's you and me- 2000 years later.
How can this possibly be?  Greater- means more. We will be able to accomplish more because the Glorified Lord has returned to heaven and is able to send the Holy Spirit to indwell, seal, guide and empower anyone who has faith in Jesus. While confined to human flesh, Jesus could only be in one place at one time.
Jesus said he would ask the Father and He will give you another, the Counselor (Holy Spirit) who will be with you forever. (John 14:15-17)  Do you realize what all Jesus has done for you and me?  First of all when I placed my faith in Him- believing He is who He says He is – He asked the Father to forgive me of my sins at the Cross. Jesus then asked the Father to give me the Holy Spirit. This is Whom, the Lord referred to Ezekiel 36- " I will sprinkle clean water on you and you will be clean; I will cleanse you from impurities and from all idols. I will give you a new heart and put a new spirit in you; I will remove from you your heart of stone and give you a new heart of flesh. I will put MY SPIRIT in you and move you to follow my decrees and be careful to keep my laws." (John 17:21- that they all may be one , as You Father are in Me and I in you, that they may also be one in Us that they world would believe You sent me.')
This is what happens when we get saved- believe in Jesus- believe that He is in the Father and the Father is in Him. Believe that His sinless blood shed for me at Calvary cleansed me from all impurities- all my sins were forgiven and now God could put His Spirit in me- in my new heart.
Now let us return to this statement Jesus makes in Acts 1- to wait for the Holy Spirit because John the Baptist baptized with water but you will(future) be baptized with the Holy Spirit. Jesus told them at the Last Supper-" but you know Him, for He lives with you and will be(in the future)in you." (John 14:17)
The day was soon coming- the day they were to wait for when the Holy Spirit would come to live in anyone who placed their faith in Jesus- believing He is who He says He is and can do what He says He can do. Ever since the day of Pentecost, 2000 years ago, when a person gets saved they immediately receive the Holy Spirit. We are saved by grace through faith and that not of ourselves it is a gift of God not of works lest any man should boast. After we are saved we should walk in the works God has ordained for us to walk in.  We will be new creatures- old things are passing away and all things are becoming new.
This was made possible by the plan of salvation that was designed by God the Father, God the Son and God the Holy Spirit before the foundation of the earth. It is the means by which the very life of Jesus becomes available to us, continuously and constantly. Think about how the people crowded around Jesus vying for his attention  when He was here on earth, trying to get to Him for healing or to talk one on one with Him. Even the disciples in that small group had to share Him with the other disciples. But now I have Him-all of Him. I have his immediate attention- I have His constant attention. He walks with me and talks with me and tells me I am His own.  What a wonderful plan is the plan of salvation!!By means of the Holy Spirit the Life of Jesus is made available to me and you- to 'anyone who has faith in me' said Jesus.
Now included in the plan of salvation was a program by which the life of Jesus, the forgiveness of sin and eternal life could be made available to the ends of the earth.  We, Baptists, are big on programs- but the only program we need to implement is the one Jesus told us to implement in the Great Commission 2000 years ago. Here is the key- It is His Program, His Plan and it will only work and be accomplished when it is done with His Power.  " Faithful is He who calls you, Who will also do it." (I Thess. 5:24)
This power does not need our help, our cleverness or marketing savvy. It only needs our obedience, our availability, not our ability. It is the glorious power of the Risen Lord- it is resurrection power we are to rely on. Paul prayed our eyes would be opened to see this incomparable power  that created the heavens and the earth, the seas and the mountains- the human body which is fearfully and wonderfully made- the very power that raised Jesus from the dead all the way to heaven. This is the power that came into each of us when we believed. It changes us from the inside –out. It is the power to change the world in which we live and 2000 years ago those who witnessed this beginning of the Church said these men- these believers 'turned the world upside down."
What is wrong with the Church today- is we have abandoned His method for implementing the program in the power of the Holy Spirit. We have somehow become salesman peddling a product- a denomination , a specific church with all its programs. Recruiters trying to get you to join our fraternity or club because of the good stuff we have and do.
Jesus said ' but you will receive power when the Holy Spirit comes upon you; and you will be my witnesses." That is the program. That is what the Holy Spirit empowers us to do- be MY (THE LORD'S) WITNESSES.  Jesus said talk about me. How can I talk about Him, if I have not experienced Him? Talk about what I have done for you and in you says the Lord. A witness is someone who has personal knowledge and experience. This what we are to testify of and about- what Jesus has done in our lives. We will not see the early church and disciples talking about themselves or their church- they are talking about and witnessing about the Lord- about what He had done in their lives. it is not about me- or about the church I attend- it is all about HIM. This is what the church is supposed to be about.
We are to be witnesses everywhere we go- to all races, all sexes, all ages- it makes no difference. To the ends of the earth was the Lord's plan for after all He so loved the World He gave His only begotten son – who died not only for our sins but for the sins of the world.
Now Luke based on eyewitness accounts tells us after these instructions during the Lord's 40 day ministry- the Lord gives a visual lesson that would remain in their memories for the rest of their days.
The Lord Jesus in His glorified, resurrected body, they had both seen, heard, handled and sat down with Him and watched him eat was taken up – into heaven out of their sight. He had returned to His Father.
While they were standing there looking up into the clouds where he had disappeared, two angels appeared to them and said: " Men of Galilee why do stand there looking up into the sky? This same Jesus who has been taken from you into heaven, will come back in the same way you have seen Him go into heaven." There is a promise for each of us believers!
I believe every generation of believers since then has lived in the expectation and hope the Lord would return during their time. But what we are going to discover is although the Lord has not returned visibly and bodily to this day. He did return just 10 days later after His Ascension into heaven. He returned in the person of the Holy Spirit. And it is the Spirit of Truth that confirms to us He is alive and He is living within each believer.
Again let us return to something the Lord said on the night of the Last Supper.  He had saved some of his most precious teaching for his disciples and us until the very end of his earthly ministry for He knew the timing for that teaching was right.
Listen to these words of comfort:  " let not your hearts be troubled- you believe in God, believe also in me. " ( The antidote for a troubled heart is to believe in Jesus.) "In my father's house are many mansions, if it were not so, I would have told you. I go to prepare a place for you." I love the assurance Jesus adds to this statement- he says if it were not so I would have told you.  " And if I go and prepare a place for you, I will come again, and receive you unto myself; that where I am, there you may be also."
I do not have to be concerned about whether the Lord will return to earth in my lifetime for I am assured that when I die- I will go to be with Him. He said He would personally receive me Himself.
Heaven is a prepared place for prepared people. Are you prepared? Have you told others?
Remember your oath- 'I swear to tell the truth, the whole truth and nothing but the truth. So Help Me God!     Do you know what God 's answer is to our plea-So Help Me God?  He says I already have. I gave you my Son to die in your place for your sins, and I placed my Spirit in you to empower you to be my witnesses. I have given you everything you need.